On July 26th, 2006
---

Physical Therapy Camp
Well, it's been a week since we got back from Lu'An for the physical therapy trip, and the fond memories from the week are still fresh in our minds. The team of 20 of us LWB volunteers was composed of two Americans, 2 Canadians, a handful of Shanghai young professionals and a group of college students from one of China's top universities.
For me personally, it was one of the most meaningful, fun and eye-opening trips I've ever been a part of!
Throughout the week, Ellen, our physical therapist, got to meet and assess 41 kids in the foster program in Lu'An. Most of the kids have been previously diagnosed with CP, have had restorative surgery (either for cleft palates or heart conditions), or are cognitively delayed.
It was amazing for us to see Ellen at work and see her interacting with the kids and their foster parents. Ellen prescribed specific exercises, body positions and other tips to help strengthen muscles and encourage development.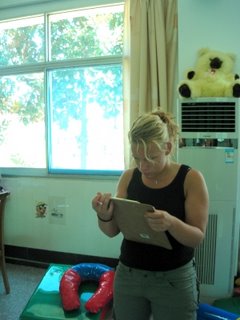 The foster moms that came with their foster kids were very responsive to her instructions, and each child got to take home a developmental tool or toy especially picked by Ellen to help in development.
Ellen's assessment/treatment notes were very detailed and pictures we took of each of the foster kids are the latest step in LWB's efforts to closely monitor the progress of these foster kids as time goes on.
The highlight of seeing Ellen at work with the foster kids was that we got to see a few "firsts." One of the photos I've included here shows Cheng-zhi, a little boy with CP who walked for the very first time after Ellen outfitted him with a LWB-donated walker.
The look of joy and wonder on his face is something that I will never forget! Also, it was incredible to see how Ellen could prescribe seemingly small things (sitting position changes, small exercises) that would make a huge different in the quality of life for these kids.
We genuinely enjoyed working with Ms. Feng, the foster care coordinator at the orphanage. She reminded me of a caring mother hen! She knew each of the foster kids' names, physical conditions and their foster family background by heart and hovered over them with great care and attention to detail. We were also encouraged to find that the foster moms that we met with were very caring and seemed attuned to their foster kids' needs.

While Ellen was working her magic, the rest of the team took turns helping to play with the kids in the intake room or upstairs in the orphanage's infant rooms. Our team really bonded with these kids, and it was really hard to leave them after a week. Over the course of the week, the college students learned the names of each of the infants upstairs and their personalities. One of the little girls burst into loud cries as if on cue anytime she saw a stranger and would cling to the ayi for dear life…but by the end of the week, she was happily playing with us. We brought music, sang songs to them, helped the ayis with diaper duty, feeding duty and in general, just held the kids and loved on them.
For me personally, my favorite times in the infant rooms upstairs was when I got to hold a little one that I nicknamed, "the Little Princess." She was a preemie and even after two months, she was still tinier than a regular newborn, weighing barely 6lbs by my guess. It was a personal challenge…for me to look into her tiny face, think about her future and be able to say, "I believe that there is a plan for your life, and people who love you even though they've never met you, and I want to play my part (however small) in helping you along the way." That's a commitment that I believe many LWB volunteers hold to.
So that's the story of our trip!
– Grace Chiang, Lu'An trip team leader